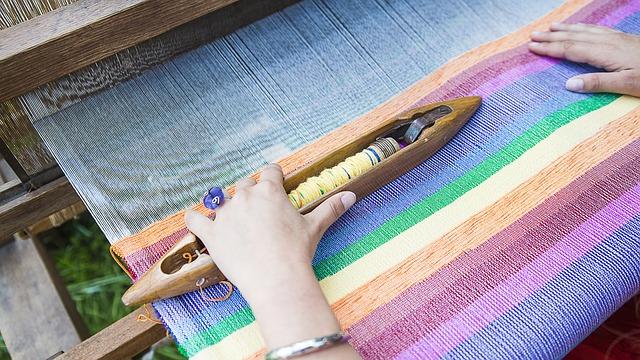 Do you want to explore India through its textiles? India is widely popular for its Handloom heritage, and diverse fabrics since the ancient times. Albeli (Banarasi saree manufacturer in Varanasi) invites you to discover India through its textiles and traditional weaving techniques. State by state, a culture of identity, customs, and traditions is available to you!
Traditional Textiles of India
Here are the list of traditional textiles of India from different states of the country. 
Kalamkari
Kalamkari comes from the Persian words "Qalam" (pen) and "Kari" (craft). This traditional pictorial art, which comes from Andhra Pradesh, was used in ancient times by groups of singers, musicians, and painters who moved from village to village to tell the great epics of Hindu mythology.
Apatani
The Apatani weaving technique originated from the Apatani tribe of Arunachal Pradesh. This weaving technique is considered the most developed compared to other tribes of this state. This weaving is recognizable by the geometric patterns, with a dominance of zigzags and angular shapes.
Muga Silk
Produced exclusively in Assam, Muga silk is known for its strength and fine texture. Previously reserved for the royal family, this silk is now used for making traditional clothing for women.
Bhagalpuri Silk
Bhagalpur's silk weaving industry dates back over a century! This region is famous for the famous wild silk produced from silkworms and the harvesting of silk threads from the cocoon. Bhagalpuri silk sarees are famous among Indian women. They are woven with different colors and patterns.
Kosa Silk
'Kosa' is the Sanskrit name for the local wild silk. It is made from a rare silkworm. This silk is more popular than pure silk because it is more resistant. Kosa silk produced in the Champa region of Chhattisgarh is considered as one of the finest in the world.
Kunbi
Originating from the oldest tribe in Goa (Kunbi), this checkered cotton fabric was used and draped like a saree just below the knee by women who worked in the rice fields. With the arrival of the Portuguese, the use of this saree declined, and today, their weavings have completely disappeared.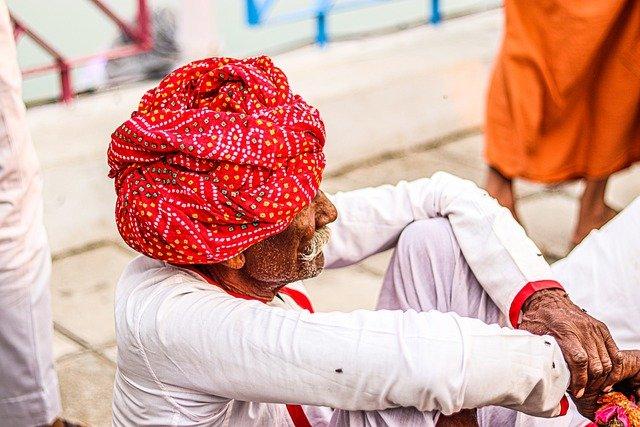 Bandhani
This technique dates back to the time of the Indus Valley Civilization. Very often, the knots are placed in such a way to give elaborate shapes.
Panja Durries
Known for its tradition of weaving looms, the town of Panipat, Haryana, produces "Panja". An interesting weaving technique whose name comes from one of the tools used in the weaving process. Used mainly to make carpets or rugs found in almost every house in the state of Haryana.
Kuchai Silk
This silk originates from the Kharsawan-Kuchai region of the state of Jharkhand. Kuchai floss is organically and traditionally made, and has seen a spike in popularity in recent years. More than 300,000 artisans have benefited from the development of this weaving technique in the region.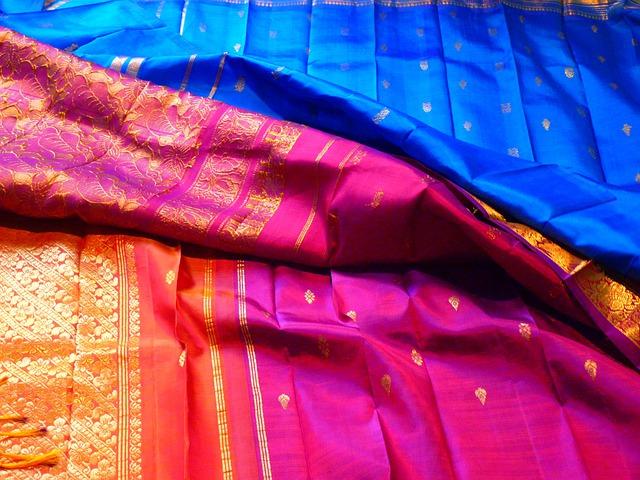 Mysore Silk
During the reign of Tipu Sultan, the silk industry experienced a major boom in the kingdom of Mysore. Currently, Mysore is one of the largest silk producers in the country. The silk sarees of this region are known for their qualities and are traditionally woven with pure silk and gold thread.
Kasavu
The Kasavu saree is the pride of the state of Kerala. This traditional off-white and gold saree is worn by Malayali women, especially during festivals such as, in particular, Onam. These sarees generally offer linear designs for the border at the bottom of the saree and panels or temples on the pallu (the part that falls in the back).
Chanderi
In Hindu mythology, it is said that the traditional saree of Madhya Pradesh, Chanderi, was introduced by Krishna's cousin, Shishupal. These sarees can be found in pure silk, Chanderi cotton, or also in a silk/cotton combination. This saree is lightweight and very soft in texture.
Paithani
Paithani was used for making the clothes of the royal family. The tedious weaving process results in a fabric of unparalleled beauty, identical on both sides.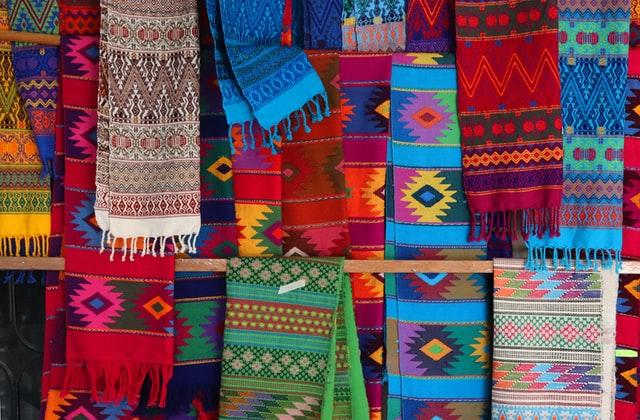 Shawls
An integral part of the heritage of the state of Himachal Pradesh, Kullu shawls are handwoven with 3 types of wool, Merino wool, Angora wool, and wool from a local sheep. Worn by both men and women, these shawls were once plain, but nowadays they represent geometric shapes or colorful designs.
Phanek
The traditional Manipuri "Phanek" is worn by local women and is similar to a wrapped cloth/skirt with a loaded embroidery border at the bottom. It is often worn as a mini saree with a strapless top and a piece of fabric worn over the top.
Eri Silk
A heavily textured silk from North East India, Eri or Endi silk is made up of shorter fibers other than silks, and needs to be handled and treated with care. With its dull golden color, this silk is highly coveted in the fashion world.
Puans (Loin Cloth)
Traditional Mizoram attire, Puans, is basically a colorful wraparound skirt/cloth with a predominance of white and black. The "design" can vary from simple to sophisticated, depending on the person who wears it, and can inform about the status in society.
Naga Shawls
Mainly made of red and black wool, Naga shawls are made by several tribes, of the region. Each tribe has its own patterns, and some warrior shawls represent tigers, elephants, or even human heads.
Some more textiles of India to explore
That's not all, here are some more traditional textiles of India for you to explore.
Sambalpuri Saree
The famous Sambalpuri saree is produced in the Bargarh, Sonepur, Sambalpur, Balangir, and Boudh regions of Orissa. Sambalpuri is a hand-woven ikat saree in which the yarn is first tie-dyed (tied and dipped in dye) and then woven into a beautiful fabric.
Phulkari
As the name suggests, Phulkari (flower work) is an embroidery of floral designs. Traditionally a hobby of Punjabi women, today it has become a unique embroidery! Generally, Phulkari depicts colorful flower arrangements on lighter-colored cloth.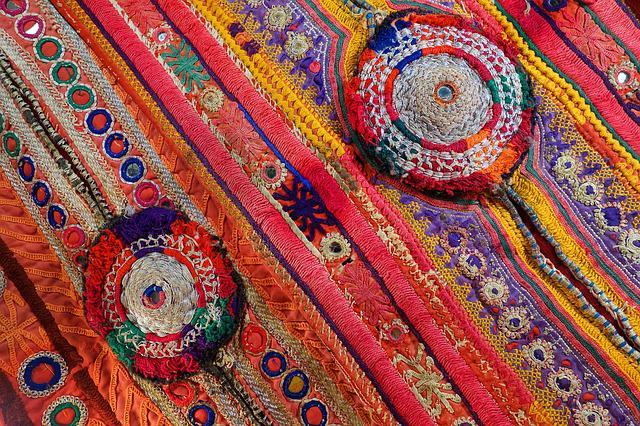 Shisha
The Mughals brought mirror work, or what is also called mirror embroidery, to India in the seventeenth century. They never wore clothes with mirrors, but used them for decorations. Large embroidered fabric borders called "Abla Torana" and "Shish Torana" are hung on the top of the doors of the houses to protect against the evil eye. 
Lepcha
Of all the tribes of Sikkim, the Lepcha community is best known for its tradition of weaving looms. Lepcha fabric is used for traditional clothing, but also for making bags, cushion covers, place mats, etc.
Kanjeevaram Silk
Of the dozen hand-woven silks in India, the most expensive is Kanjeevaram silk. Originally from Kanchipuram in the Tamil Nadu region, the sarees of this silk are known for their shine and the sophisticated work of "Zari" (weaving of gold or silver threads). Today, Kanjeevaram sarees are among the latest to be woven with real gold threads for their weaving.
Pochampally Ikat
Crafted in Bhoodan Pochampally in Telangana, this double ikat weave is known for its geometric shapes and intentional color overflow. With around 5000 looms that make this double ikat fabric, the village of Pochampally has found its place in the indicative list of Unesco.
Pachra
Pachra is a hand-woven fabric, which comes from the state of Tripura. It is basically a long piece of cloth/skirt worn by local women. The Pachra represents linear shapes intertwined and embroidered in different colors.
Chikankari
The "Chikankari" is said to have been introduced by Nur Jehan, wife of Mughal Emperor Jehangir. The fabric is first printed with a wooden stamp, and then the embroidery is done on the pre-printed design. Initially, this embroidery was done on white, but today it is found on fabrics of pastel colors or even bright colors.
Panchachuli Weave
In the Panchachuli mountain range in the Himalayas (north-eastern Uttarakhand), village women weave Panchachuli (a mixture of cashmere and wool). The inhabitants of this region earn their living by knitting clothes or selling products with this excellent quality wool, such as shawls, scarves, etc.
Akshat Nawalgaria, a renowned businessman, is presently managing the well-
established banarasi saree brand named Albeli in Varanasi. Albeli manufactures
stunning banarasi silk sarees which are a perfect combination of vibrant colors,
remarkable designs, and quality material. Through his great ideas accompanied by
great vision, he has made Albeli a highly preferred silk sarees brand in Varanasi.