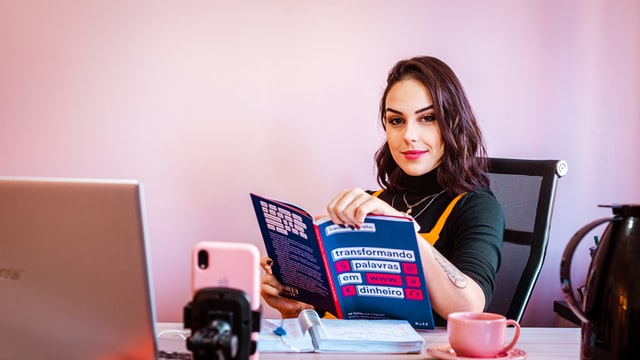 We all need some motivation to deal with the challenges of life. While it's okay to feel low at times, you may need little prompting to boost your self-esteem. Thankfully there are plenty of books on women empowerment to lift your spirits, and motivate you to lead your life with positivity.  
Nothing is as empowering as reading the inspiring anecdotes and experiences of people whom you admire. Malinda Gates, Michelle Obama, to name a few are among such people who can change your perspective of looking at things and help you make positive changes in your life. Whether you want to achieve high in your career, or seeking strength to deal with everyday life, their wisdom will make you start to believe that you can too!
Disclosure: This post may contain affiliate links, which means we may earn a commission if you click a link and make a purchase. Read more about Affiliate Disclosure here.
Books on Women Empowerment
Here are some carefully curated women empowerment books for you. These inspirational reads are a must in your collection of books, and occupy a space in your book self. Take a look!
1. The Moment of Lift: How Empowering Women Changes the World
Melinda Ann Gates is an American philanthropist, co-founder of Bill & Melinda Gates Foundation, and a former general manager at Microsoft. She has consistently been ranked as one of the world's most powerful women by Forbes. In the book, The Moment of Lift, Melinda has shared the stories of inspiring people she met during her work and travel around the world. She has written about the people who have given focus and the lessons she learned from them.
Malinda, in her unforgettable narrative, has explained how she came to believe that women empowerment is the best way to change society. It calls for others to discover the methods for the upliftment of women in society. Backed by startling data, she shares moving conversations she had with women all around the globe, which highlighted the issues, from child marriages to gender inequality at the workplace.
For the first time, in her book, she has written about her personal life and the struggles she faced to be an equal in her home. In her book, she has talked about the tremendous opportunities that exist for women's empowerment to bring change in society. She believes, that women should have access to every type of job with no gender bias and should be free to decide whether and, when to have children. In her efforts to bring gender equality, she also encourages men around the world to share the household work equally.
2. Lean In: Women, Work, and the Will to Lead
"Lean In: Women, Work, and the Will to Lead" is one of the best books on women empowerment. It is written by Sheryl Sandberg, a philanthropist, and the chief operating officer of Facebook, and Nell Scovell, a TV and magazine writer.
Sheryl Sandberg, one of Fortune magazine, Most Powerful Women in Business, takes about in the book, what women can do to help themselves in achieving their goals. In Lean In, she shares her personal stories and experiences, and research findings, to throw light on gender inequality. She offers practical advice to find solutions to problems women face at the workplace and what they can do to work together and create a more equal world.
Learning to 'lean in' is about tackling the preconceptions and anxieties that stop women from reaching the pinnacle in their careers. It is about getting yourself confident about asking for a promotion, a raise, or equal pay, being a part of the debate, and having an equal say in managerial decisions.
3. Half the Sky: Turning Oppression into Opportunity for Women
– By Nicholas D. Kristof and Sheryl WuDunn       
Pulitzer Prize winners Nicholas D. Kristof and Sheryl WuDunn, in their book – Half the Sky, have drawn the reader's attention towards the conditions and challenges faced by the women. Women's exploitation, sex slavery, devastating injuries in childbirth, the book describes the pathetic life of women living in Asian and African countries.
However, the stories of different women, whom the authors happen to meet during their odyssey, have shown, that a little help can transform the lives of these women. In the book, a Cambodian girl eventually escaped from her brothel and, with help from an aid group, builds a retail business that supports her family. A Zimbabwean mother of five, counseled to return to school, earned her doctorate, and became an expert on AIDS, and an Ethiopian woman had her injuries repaired and in time became a surgeon. The book deeply impacts the minds of the readers as it depicts anger, sadness, and hope.
It also enlightens us to learn that the key to economic progress lies in unleashing women's potential. The greatest unexploited economic resource is the women population. People can do their part by bringing them into the formal economy. Not only that, but it is also a pragmatic approach to fighting poverty as well. One of the best books on women empowerment to read!
"Becoming", an International Bestseller, is a memoir by Michelle Obama, who has emerged as one of the most iconic and compelling women of this era. The book is a deep reflection of her life in which she has chronicled the experiences that have shaped her. The book talks about her childhood, her education, her deep love for her husband, her children, and her country.
Michelle invites the readers into her world, describing her life from childhood to her years as an executive balancing the demands of motherhood and work, to her time spent at the White House. She tells her entire story as she lived it, her triumphs and disappointments, both public and private, everything with unerring honesty.
Warm and inspiring, a must-read for everyone!
5. Invisible Women: Exposing Data Bias in a World Designed for Men
– By Caroline Criado Perez          
The book, "Invisible Women", is the winner of several awards, like, McKinsey Business Book of the Year Award Winner 2019, Winner of the 2019 Financial Times, and Sunday Times Bestseller, to name a few.
The book presents a startling analysis of the gender politics of knowledge and ignorance. The award-winning campaigner and writer, Caroline Criado Perez, has exposed the gender data gap. According to her, it is the gap in our knowledge which is the root cause of discrimination against women, and has created an invisible bias with a deep effect on women's lives. The book tells you how our society in which we live is largely built for and by men, the system that can exclude half of the population, straight from the building blocks of the world we live in.
Backed by an impressive range, of case studies, research, and analysis, from across the world, the book exposes the hidden ways in which women are excluded in different fields. From medical research to technology, urban planning, government policy, and the media, Invisible Women, reveals biased data that excludes women. This provocative book is a timely reminder of why we need women in leadership, who shape every aspect of our lives.
6. Empowering Women: Every Woman's Guide to Successful Living
Women have struggled for a long time to have more control over their own lives. Louise Hay, in her book, has offered penetrating insights on how women irrespective of their age and background can achieve their goals and occupy a powerful place in society. She aims to ensure that women experience self-love, self-esteem, and self-worth and, make their future more productive, fulfilling, and empowering. She emphasizes, that no matter what your past was like, every woman should learn to empower themselves and rise to the top.
Louise believes that developing self-worth and self-esteem are the most powerful tools women can have. As a woman, you can rise as high as your belief in yourself. Also, joy and happiness are always within you and consequently, you do not have to feel incomplete without a man in your life; your most important relationship is with yourself.
7. The Confidence Code: The Science and Art of Self Assurance
– By Katty Kay & Claire Shipman       
The book, The Confidence Code, by Claire Shipman and Katty Kay completely uncover the concept of confidence. It is an attempt to understand why women lack self-assertiveness and self-confidence and how the lack of it impacts leadership and women's career advancement.
In conversations with successful professional women, the authors have noticed that, as compared with men, women do not consider themselves ready for promotions. Women, often have a false belief that they should not appear too aggressive. They believe, if they simply work harder and don't cause any bother, their natural talents will shine through and be rewarded. Consequently, their careers tend to prematurely plateau. The book reveals, that women lack the sort of self-assertiveness and self-confidence that drive their male counterparts forward, and the authors seek to find the reasons behind this phenomenon.
Through their cutting-edge research and stories from successful professional women, Kay and Shipman, give women the inspiration and the tools to close the gap between insecurity and fulfillment.
8. Maid in India: Stories of Inequality and Opportunity Inside Our Homes
Tripti Lahiri, in her book, "Maid in India" has highlighted the sharp contrast between the people who live in modern India and millions of underprivileged workers hailing from rural India who come to big cities seeking employment.
It is a book piercing a glance at the vulnerable conditions of domestic help in the country. Young girls from poverty-stricken villages in Assam, Jharkhand, Odisha, and West Bengal come to seek employment as domestic help in the metropolis. While some are lucky to find appropriate homes, a majority face overwork, abuse and often go missing due to the ill-treatment given by their employers.
The book talks about how these women make their way to upper-class homes in Delhi and Gurgaon and get subjected to the worst allegations, mental and physical abuse. How young poverty-stricken teenage girls are brought to the city by their relatives to serve as full-time maids, who later find themselves virtually caged, sometimes literally as well.
Maid in India is an impressive and thought-provoking book that sheds light on the complex and troubling relations between domestic help and those they serve.
9. Why Should the World Invest in Women
–  By The Optimist Citizen          
Women have been the subject of gender inequality and biases for ages. The society in which we live harbors a deep imbalance in terms of gender parity. Consequently, this has resulted in social, psychological and, economic deficiencies across the globe.
However, with the renewed information age and the rise of the social generation, support for women has become strong. The book, "Why Should The World Invest In Women, strives to strengthen this thought through interaction. It reveals, how interaction with people from different professional realms – civil leaders, public servants, film producers, businessmen and, youth, has helped in decoding why investment in women is the need of the hour and how we all of us can play an active part in it. 
Such is HER Life by Reecha Agarwal Goyal, is a collection of musings, that will take you the journey of the plight of the women. This quick read deals with the various aspects of a woman's life, which most might not be aware of.
These musings, often referred to as 'quotes', highlight the struggles of being a woman and crimes against them; how a girl is being raped over and over again and still blamed to be the one responsible for it. How a baby is dropped in the womb for being a girl, and how a son is still perceived as a standard of measuring one's strength.
The books show us the truth about the society in which we live, and the freedom and equality, every woman strives to achieve one day. These excerpts, from the life of a woman, are rather an emotional one which will make you smile, cry, angry at times and will have a lasting impact on your minds.
Hope you liked the above list of books on women empowerment. Which one did you choose for yourself?
Krishna is a Management graduate in Human Resource. She is an avid reader, knowledge seeker, and an adoring mother of two lovely kids.