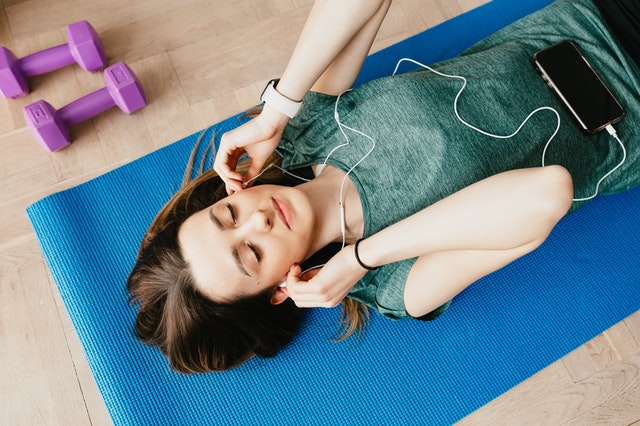 Want to stick to your new year's resolution of staying fit but don't know from where, to begin with? Turn to the best free workout apps, so that you can pursue your workouts even being home.
With COVID-19 cases still reported high, gyms and fitness studios might still not be functioning at many places. Exercising without a trained instructor or an experienced trainer can be challenging and difficult to pursue your fitness regime. Moreover, you might also end up exposing yourself to injury, if you continued doing exercises in the wrong way. Fortunately, there are plenty of workout apps available, which you can conveniently download on your android, or iOS devices and begin your workouts to stay fit and healthy.
Not to mention gym membership can add up to a huge annual expense too, but that should not stand in the way to maintain your health. So, it makes sense, downloading these best free workout apps on your mobiles or tablets and getting the maximum out of your workouts, even being home.
Disclosure: This post may contain affiliate links, which means we may earn a commission if you click a link and make a purchase. Read more about Affiliate Disclosure here.
List of Best Workout Apps For Home
Home workout apps will not only help you achieve your fitness goals but also help you maintain health in the long run as well. However, finding an appropriate workout app that suits your requirements can be cumbersome.
If you are hunting for an exercise companion, here are some of the best workout apps for home, which you can download. Most of the apps which I have mentioned here offer you step by step instructions to make your workout convenient, simple, and effective.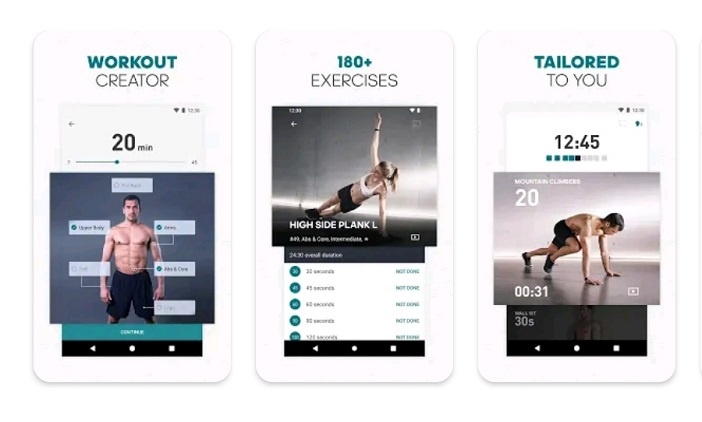 Starting your fitness journey has never been easier. With the adidas Training app by Runtastic, you get bodyweight workouts, yoga, and six-pack training: All workouts on one fitness app. This app is perfect for- fat burn, strength training, bodyweight training, and total-body burn.
The workout creator lets you choose the area of your body which you want to target.
The well laid out plans for different exercise goals and top-class trainers and athletes are handy for an effective workout.
Choose from more than 190 exercises to tone and strengthen your body.
The app also provides guided video workouts, ab exercises, yoga, yoga for beginners, and much more.
The workout timer and voice coach will make your workout session a seamless experience.
Besides, fitness tips and regular updates on health and nutrition will help you stay fit and healthy.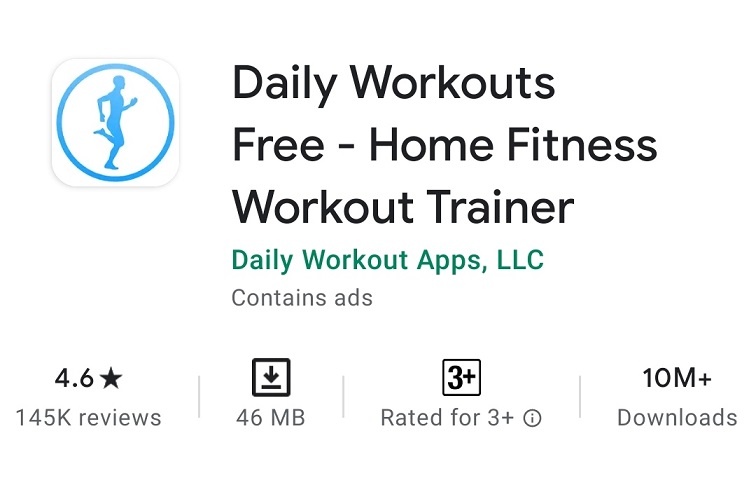 One of the best home workout apps, this personal trainer can provide you quick and effective workouts, no matter wherever you are! Right in the comfort of your home, you can do some of the best exercises which include:
Ten different 5-to-10-minute targeted workouts
More than 100 exercises
10-to-30-minute randomized full-body workouts
On-screen instructions and timer.
Not only that, the video tutorials of the app provide you step-by-step instructions, showing how to perform each exercise.
The proven workouts demonstrated by a certified personal trainer targets all your major muscles.
The simple interface of the app allows you to select your routine and easily follow along!
Spending just a few minutes a day will help you strengthen and tone your body.
3. Home Workout – No Equipment
Bodybuilding without equipment? Sounds impossible, isn't it? Well, the Home Workout app by Leap Fitness Group provides your daily workout routines for all your muscle groups without having you go to the gym. You can perform all your exercises with just your body weight and don't require any equipment or gym coach.
Designed by experts, the app has workouts for your abs, chest, legs, and arms as well as full-body workouts. The warm-up and stretching routines, and video guidance for each exercise turning your fitness regime even more effective. Not only that, it tracks your weight trends and records your training progress automatically. Just a few minutes a day, it can tone your muscles well and help you get six-pack abs at home.
Install the Nike Training Club app for Bodyweight, Yoga, HIT (High-Intensity Training), and Athlete workouts. You can do all these workouts with minimum to no equipment and without stepping out of your home. Continue your fitness and wellness journey with more than 185 free expertly curated workouts from world-class Nike Trainers. The workout collections are designed carefully for athletes of all levels and help you get specific results.
Workouts ranging from 5 to 60 minutes include body-part targeted workouts, HIT, yoga, boxing, strength endurance, and mobility workouts, for beginners, intermediate, and advanced levels.
The personalized recommendations and apple watch support will keep you focused on your workouts, and help you achieve your fitness goals.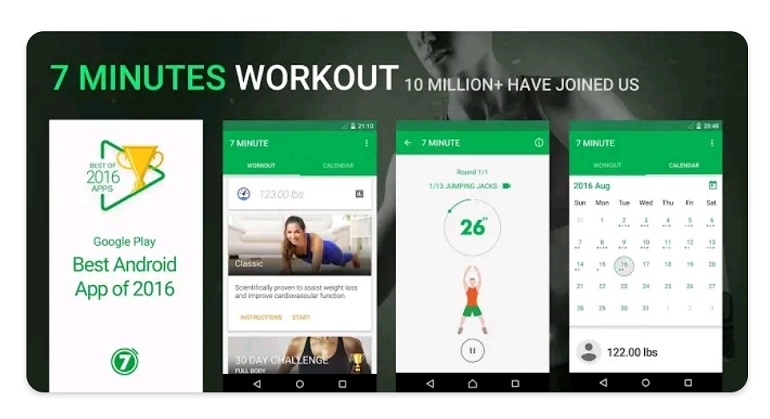 7 Minutes workout is a scientifically proven app that helps you lose weight and improve your cardiovascular function. The workouts are based on HICT (High-Intensity Circuit Training), the safest and most effective way to improve your muscular and aerobic fitness.
This app requires you to work out only for 7 minutes and consists of only 12 exercises with video and voice guidance that show you how to perform each exercise. These brief workouts are super effective in helping you lose weight, get a flat tummy, and strengthen your abdominal muscles.
Highlighted by the New York Times as offering "maximum results with minimal investment", now supports Google Fit, and comes with the new abs workout.
So, what are you waiting for? Start your fitness journey with the 7 Minutes Workout app.
Available on: Android
6. Lose Weight in 30 Days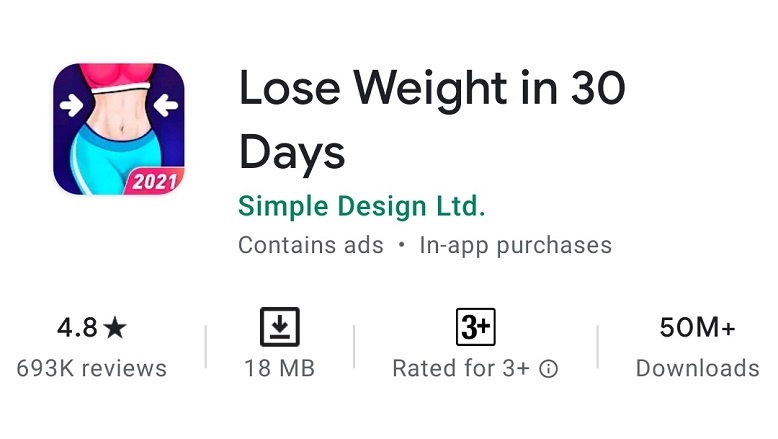 The number of downloads and high reviews of the app is indicative enough to give you an idea about the popularity of this app. Lose Weight in 30 Days app is one of the best free workout apps that provides you scientifically proven workouts, to help you improve your health and stay fit. To add more to it, the app also provides a healthy diet plan, that will help you lose weight quickly in merely 30 days and shape up your body.
You can do the exercises at home or anywhere with ease, as it does not require you to use any equipment.
The video guidance and animations will make sure you perform the exercises correctly.
Through this app, you can set your weight loss targets, and with features like Track weight loss progress and Track burned calories you can achieve the maximum out of your workouts.
You can also synchronize your workout data and calorie data on Google Fit, thus making it even more effective.
7. Lose Belly Fat At Home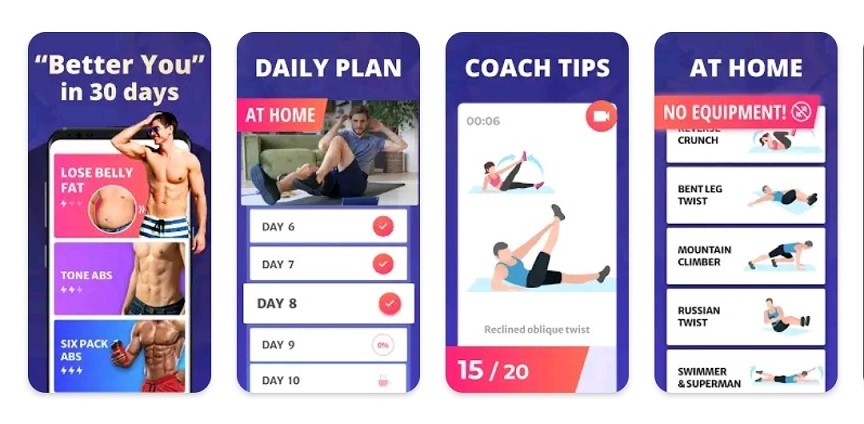 Do you want to get a flat stomach in as early as 30 days? Then, Lose Belly Fat At Home is the app for you. Sweating for only 10 minutes a day, the aerobic exercises in the app will help you flatten your tummy.  With brief and effective, scientifically proven workout plans, you can easily get rid of the annoying belly fat.
One of the best free workout apps, Lose Belly Fat At Home, is:
Quick and effective for fat burning
Suitable for both beginners and pro, and requires no equipment.
Designed by experts, abs workout comes with 3 difficulty levels – easy, medium, and hard.
Video guidance and animations make it easy to use.
Easy tracking of weight loss progress and burned calories.
Health tips and customized workout reminders will keep you on track to achieve your goal of having a flat belly.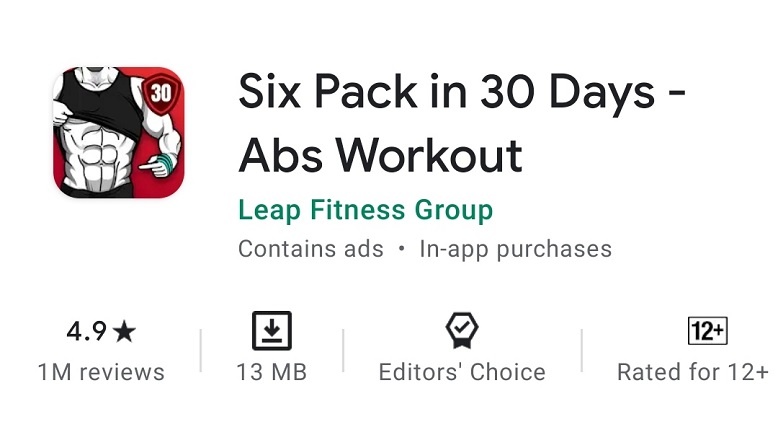 One of the best free workout apps, this app is the editor's choice, with 50 million downloads and more than 1 million positive reviews. Six Pack in 30 Days app helps you lose fat and get six-pack abs at home through its effective workouts.
It provides workouts that are suitable for all levels and can be done easily anytime, at home, or anywhere, and requires no equipment.
You can set your exercise goals by providing scientific and systematic 30-day workout routines.
Based on the high-intensity Circuit training (HICT) principle, workouts are highly effective, in strengthening all your abdominal muscles for six-pack abs. HICT combines both cardio and resistance training in the same workout.
You can also gradually increase the intensity of the exercises.
With features like video guides, trackable training progress, and customizable workout reminders, this app is suitable for everyone whether you are a beginner or pro, men or women. 
9. Freeletics Training Coach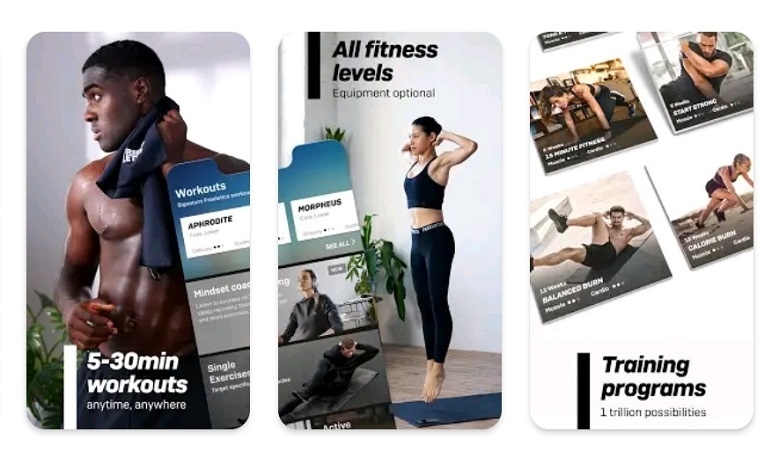 Freeletics Training Coach, an editor's choice app, with more than 10 million downloads, lets you work out anytime, at home, or anywhere. This app is your personal trainer that gets you fit using your bodyweight through high-intensity interval training (HIIT) workouts.
Video guidance with clear instructions for each movement and an intuitive interface makes your workout a seamless experience. The most advanced digital personal trainer will let you witness fast results by creating a perfect workout exclusively for you.
Europe's #1 fitness app lets achieve your goals quickly, no matter what your fitness level is. The free version of the app contains 20 HIIT bodyweight workouts, 25 exercises, and 20 audio sessions, which will help you improve your fitness.
Losing weight and gaining muscles has never been so simple. Download the community of millions now, and begin your fitness journey!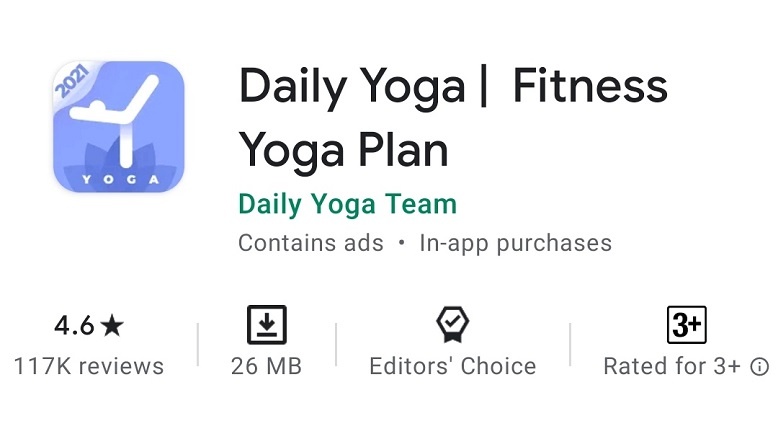 Another one of the best free workout apps, Daily Yoga, to keep yourselves fit and healthy. An innumerable variety, of yoga classes, tailor-made only for you, will keep you committed to your fitness goals.
Even if you are a beginner to Yoga, this app provides you guided sessions to help you learn the basics of yoga before advancing to difficult levels.
With 500+ asanas, 70+ yoga programs, and 500+ guided yoga, and meditation sessions, you will find programs that align with your weight loss goals. Globally respected yoga masters, aim to make the yoga workout easier and convenient, thus helping you to stay focused and keep your mind and body healthy. 
11. Workout Trainer- Home Fitness Coach
Custom training programs led by expert coaches; the Workout Trainer app provides you some awesome at-home bodyweight workouts to do. The app contains thousands of home workouts so that you have something new to play each day, right from the comfort of your home.
Step by step audio, photo, and video instructions by the certified trainers.
Adjustable difficulty levels, for every stage of the fitness journey.
Easy to learn and perform recommended exercises for beginners.
Experienced athlete training for maintaining fitness or break through plateaus.
Apart from all these features, the Workout Trainer app also gives you Advanced Heart Rate Feedback and Detailed Workout Performance Analysis. This lets you compare and analyze your performance so that you can effectively achieve your fitness goals.
To live a healthy and active lifestyle, install the Workout Trainer app now.
Hope this article helped, in choosing an appropriate app that suits your workout targets from these best free workout apps.
You Might Also Like To Read
Krishna is a Management graduate in Human Resource. She is an avid reader, knowledge seeker, and an adoring mother of two lovely kids.